Corporate Packages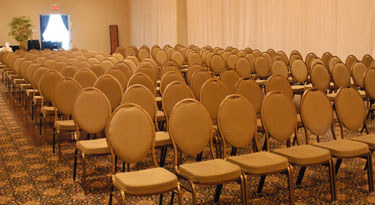 Meeting Packages
We offer many creative varieties of menus for all types of events. Whether it may be for a conference meeting with just coffee, or an all day affair including a full service or maybe even a happy hour cocktail style event. We promise that we'll find a package that will suit you. All of our packages can be personalized to fit your budget and needs.
Our experienced corporate sales team will guide you through every step of the way into planning a successful event.
All meals are prepared on-site in our modern kitchen. Our administration work together with our elite chef's to prepare, present and serve an exceptional range of offerings which help create memorable events.
Gala Services & Special Venues
We are part of a group which covers the island of Montreal for banquets, receptions and conferences. Therefore, we can accommodate groups of various sizes. We can also create a client fidelity and facilitate our clients event planning tasks.
Audio-Visual
Dvd-Player, Screens, Projector, Microphone (Wired & Wireless), Sound System, Podium, Flip Charts, Recording Services, and much more are available...
Parking & Valet Services
Ample free parking, for all of our guests. Ask about our valet service.