Wedding Events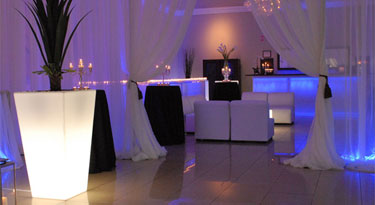 Wedding Events
The Embassy Plaza kitchen staff provides menus by using only fresh and seasonal ingredients. All of our culinary chefs are trained to prepare all international dishes and cater to any nationality. Whether it may be for an event of 50 people or 800 people we strive on creativity.
Upon arrival the bridal party gets to unwind in one of our newly renovated bridal suites before making their entrance into our beautiful and elegant ballrooms. Our team coordinates every detail with each bride and groom. They provide all info on the newest trends of linen and work closely to insure that the ballrooms décor is as memorable as ever.
Embassy Plaza can hold events ranging from 50 to 800 people. The biggest ballroom at over 11000 square feet is one of the largest banquet rooms in Laval.
Decor & Event Concept
Working with the top event planners in the industry, we can personalize your event to suit your needs. We also offer in-house planning.
Gala Services & Special Venues
We are part of a group which covers the island of Montreal for banquets, receptions and conferences. Therefore, we can accommodate groups of various sizes. We can also create a client fidelity and facilitate our clients event planning tasks.